Released April, 2011!



In A Beautiful Country

Four Way Books, 2011
An

American Poet

/Academy of American Poets Notable Book for 2011!
Finalist, The 2011 Rilke Prize for the best book by a mid-career American poet!


Finalist, The 2013 Poets' Prize for the best book by an American poet!
Advance word from
Library Journal…


Pleiades
e
ditor-at-large Kevin Prufer nails our sense of loss in a nation numbed by mall sprawl and horror movies, even as the military builds up and up.
Advance word from
Publishers Weekly…
Death or violence occurs in nearly every poem in Prufer's latest, enabling and sometimes forcing the poet to locate what is beautiful in what is otherwise tragic. "You were burning so thoughtfully in the field," he writes in "The Failure of Parents to Survive Their Children," "like a horse who,/ running from a flaming barn…sets the grass afire/ as he passes through it." Prufer proves himself a master at maintaining an emotional distance from his images--"he is far away, and, anyway, this is only a dead girl"--that renders them as stark as they are gorgeous. Though Prufer, on rare occasions, can be so clinical with an image that it feels like little more than "a picture in a book," the timing and precision of his lineation and enjambment keep each of the book's four-poem sequences operating at a pitch that is always crisp. By peppering traditional and formal verse throughout--rhymed sonnets, artes poeticae, love poems, an elegy--Prufer attempts to locate a form and a place for violence within the history of poetry, the effect of which is most moving when this violence is woven into a strand that is personal, political, and so close one feels one can touch it.
from
American Poet: The Journal of the Academy of American Poets…
Kevin Prufer's arresting fifth book examines the possibilities of and for love within a deeply complicated cultural moment. A natural follow up to the themes in his previous collection, National Anthem, the poems of
In a Beautiful Country
are meditations on one's connection to faith, love, and country— and the loss of all three of these ideals.
In the poem "To the 20th Century" Prufer personifies the period, ending on a stark note:

And if it finds no comfort from your visit,
put a pillow to its mouth, and, so, be done with it.

Poetic tradition is also front and center in the collection; in terms of subject matter, Prufer critiques a romanticized view of art while asserting it as an essential value in our country's history. Also notable is Prufer's skillful use of traditional form; the presence of rhyme, meter, sonnets, and artes poeticae creates a complex and rich collection.

from
The Georgia Review…
The big question remains: what

can

poetry do in a degraded world? At the end of the present century, an anthologist may provide the answer, but for now one can only predict that Prufer's unsettling prophecies will have staying power. There is no other contemporary voice quite like his, and I believe that, taken as a whole, Kevin Prufer's prognostic backward gaze may someday prove to have shown us where we were going before we got there.....

—Judith Kitchen
from
Field: Contemporary Poetry & Poetics…
Kevin Prufer is one of the most vital poets on his generation, saying important things about our culture in fearless, eloquent ways.

—David Walker
from
Notre Dame Review…
Among the best poets in the USA....

from
Rattle…
An absolute mesmerizing pleasure to read [...] rich with images at turns beautiful, disturbing, vivid and voluptuous.
—Nick DePascal


from
Houston Press…
Prufer ... daringly writes beautiful verse (sometimes using traditional forms, even rhyme schemes, in this day and age!) about devotion and ugly self-deception, making large claims about our new century, the recently deceased last century, the wars we are waging, and the manipulation of our affections by the mass media and our own government.
—Hank Hancock


from
Notre Dame Review…
Since
Fallen From a Chariot (2005), ...
Kevin Prufer has gone on in
National Anthem (2008)
and the present volume to complete an impressive trilogy of post-9/11 books that demonstrates how a deep vision and an often stunning lyricism need not be incompatible in poetry. Marie Howe spoke of the "courage and compassion" of his poems in

National Anthem

, adding that his poems "should be read on Fox News and CNN." The poems in
In a Beautiful Country
would be too much for either, but his treatment of love and art in the context of contemporary history and the imperatives of moral witness should be read in our hearts. Prufer is an absolutely necessary poet.
from
California Journal of Poetics…
Kevin Prufer's fifth collection of poetry,
In a Beautiful Country,
depicts a startling landscape that is eroded by war, violence, grief, and alienation. Prufer populates this landscape with a variety of voices–a merciless God, a grieving son, a war veteran, and speakers alternately buried alive and witnessing decay. The wide vocal and thematic scope of this collection speak to Prufer's breadth of vision, something he addresses directly in the poem "Distant Strangers" when he urges the reader, "Take a catalog, if you'd like, / though the color reproductions / can't quite capture / the scope of my enormous project." The enormity of his project does not startle the reader as much as the moments when Prufer transforms familiar images into unsettling starkness. In his country of charred trees, falling angels, missiles and bombs, and perpetual snowstorms, "boys idle in pick-ups / while a spring rain dots their windshields / with a million tiny bombs." Over the course of the book, the poems themselves become the angels that "crashed through the trees, / so the yard was a scatter / of bent, failing bodies."
—M. Zobel


from
The Bloomsbury Review…
Kevin Prufer is one of our best poets from the younger generation who still believe in the pure power of the lyric, the rhythm, and the force of the voice. His poetry sheers the top off any fancy notions of restless form to reveal simply what is crucial in poetic experiences where language sings off the page. Poems such as "Transparent Cities," "Little Paper Sacrifice," and "In a Beautiful Country" speak to an audience who understands what great poetry does. This is one of the best books of 2011: Kevin Prufer's poems dwell in a world that spins off into many dimensions where writer and reader meet in the magic of poetry.

from
Mixer…
Prufer shatters images of the loving, darling and angelic, and tosses them like broken shards of glass to be crushed under the feet of their traditional definitions
.
—Allison Harden Moen

________


Wir wollten Amerika finden: ausgewählte Gedichte
A bilingual volume of selected poems translated into German
by Norbert Lange and Susanna Mewe
LuxBooks Verlag, 2011
from
Frankfurter Allgemeine Zeitung…
Prufers Ars poetica ist nicht im Avant-garde-Sinn innovativ, dafuer zugaenglich, erprobt, variantenreich und voll Witz, den wiederum kulturpessimistische Melancholie kontrastiert. In verhaeltnismaeßig konventioneller Praxis werden oft Bilder und Geschichten von ueberraschender Evidenz heraufbeschworen. Kevin Prufer ist nicht naiv, aber er hintertreibt die Popkultur mit ihren eigenen Mitteln. Sei ne Rollen--und Erzaehlgedichte, Liebeslieder, Lamentos, Protokolle, Karikaturen und Entlarvungen inszenieren ein Kino posturbaner Landschaften mit stets wechselnden Staffagen und Dekors. Sprechblasen, die irgendjemand Beliebigem gehoeren, tauchen anstelle von Dialogen auf. Es sind Montagen von Zeichen-, Stimm- und Dingresten, die "im Licht ihrer fehlenden Erklaerung baden" (Godard). Das Fehlende aeußert sich in Phantom- schmerz, Laehmung, Aggression – oder aus blauem Himmel aufblitzender Verheißung, die dann doch wieder zum Herz der amerikanischen Poesie fuehrt. Dann entfaltet sie auch noch in der Uebersetzung, manchmal gebrochen und unscharf, ihren ureigensten Sound, der Raum und Weite enthaelt
. —Jan Roehnert


from
Die Welt…
Amerika, das neue Rom, aber wer sind seine Barbaren ?

Das Buch beginnt mit einem Countdown und entfesselt bei Zero eine Apokalypse. Mit geplatzten Träumen kennt sich aus, wer - wie der 1969 geborene Kevin Prufer - in Houston, Texas lebt. Die hier vorliegende Auswahl zeigt ihn als einen popmodernen politischen Dichter, der den gegenwärtigen Alltag Amerikas an den Demokratie-Entwürfen der Väter misst. In seinen auf ganze Sätze bauenden Versen erfindet er Bilder und Geschichten, die den "American Dream" zu bewahren suchen.

In einem Katastrophenfilm aus Montagen inszeniert er ein Amerika voller Gewalt und aus der Ferne gesteuerten Kriegen. Geschichte wird als Geschichte von Vertreibung und Unmündigkeit begriffen. Im Gedicht "Jüngste Geschichte" fallen die Engel gar zerstiebend in Nachbars Garten, der auch der verwüstete Garten Eden sein könnte. Der Bürger ist nur ein ohnmächtiger oder teilnahmsloser Zuschauer. Etliche Verse ziehen Parallelen zum Untergang Roms. Die neuen Cäsaren trachten - laut Prufer - danach, ein weiteres "Imperium auf Gold und Sklaven" zu errichten. Gleich dreimal stellt der Autor zwischen Rollengedichten, Protokollen und Satiren die Frage: "Wer sind unsere Barbaren?" Angst geht um.

Diese Gedichte wirken wie eine Inventur gesellschaftlicher Konflikte und Entwicklungen. Zwischen Lähmung, Aggression und Flucht in den Rausch bewegen sich die lyrischen Figuren. "Was wir mit dem Imperium gemacht haben" ist der Titel eines Gedichts, das als Groteske daherkommt. Prufers Ars Poetica spielt auf der Flöte eines an seinen Rändern messerscharfen Knochens Wahrheit, der dennoch "die Süße fortsingt". Er schreibt Liebesbriefe ins Nichts. Trotz schwergewichtiger Themen leben die Verse von der Karikatur und vom Witz.
. —Dorothea von Törne
__________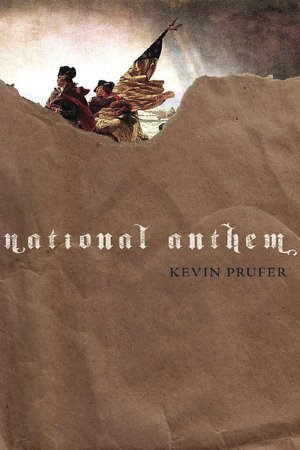 National Anthem
Four Way Books, 2008
One of
Publishers Weekly's
Five Best Poetry Books of 2008!
Citation: A rare poetry collection: as angry and ironic over the state of contemporary America—figured here as a great classical empire in decline—as it is funny and perversely pleasurable.
Best book of the Year—
Virginia Quarterly Review!
Citation: This is the collection of the year so far as I'm concerned. These poems look back on America from a not-so-distant future during and after the apocalypse that toppled our empire. Prufer's speaker shuttles between anger and ironic bemusement as he catalogs visions of destruction and the survival of the worst of us. When the speaker sets off to find what's left of America, for example, only the Motel 6 and Waffle House seem to be thriving. It's like Omega Man meets The Waste Land—which is to say that's it's a biting social critique of our times, but it also feels legitimately visionary (and scary).
—Ted Genoways & VQR


Finalist, the 2010 Poets' Prize!
A 2008 "Notable Book"
—Poetry International!
from
Publishers Weekly…
[STARRED REVIEW ] Anyone with doubts about the place of politics in poetry should have this book thrust in his hands. Prufer (

Fallen from a Chariot

) writes, "I don't know what to do/ with the doomed, the chilled over and gone,/ but drink until my fingers become twigs." This powerful collection, makes the political personal and the personal political, all in the service of sinuous, moving free verse. He has a rare gift for bringing the inanimate to life on the page. The American West becomes a drifter on a raft, his chest "brown and flecked with hair," and the title poem begins with a shopping center calling out like a lover. Elsewhere, ancient Rome, its empire in slow, steady decline, is found "curled on a pew, asleep," a haunting parallel for contemporary America. Poetry—a possible source of salvation?—is a boy locked in a car's trunk, screaming and refusing to die. And there are people in these poems, too: a speaker who writes love notes he describes as "empty and vaguely/ sad." Dead children, soldiers and those left behind in an evacuation speak and are spoken about. An absurdly large parachute falls over a suburb, and the speaker writes letters to his lover while trying to find his way out from under it. Near the end of the book, Prufer's fourth, is an ongoing elegy for a dark time in American history.
from
The New Yorker…
The America of Prufer's fourth collection is an empire in decline, a medicated landscape ("snow / like little tranquilizers all over the yard") peopled by pilgrims to shopping malls. The book opens with a panoramic vision of the aftermath of apocalypse—"expired" cars, silenced TVs, coffins "unmoored and happy with the storm"—but ends intimately, with a child's memory of his first encounter with death; the thin wire between political failure and personal grief runs taut throughout. In the eerie centerpiece poem, the suburbs are sealed under an enormous parachute, its nylon shimmering; icicles line the seams and crash into the streets, and the narrator walks for days, never finding the edge.
from
Library Journal…
The author of four books of poetry (e.g.,

Fallen from a Chario

t) and coeditor of the important anthology

New European Poets

, Prufer here continues to grapple with human suffering, smudging the border between real and surreal in a kind of imagined poetry of witness: two strangers comb a ravaged war site in search of food, a man who personifies the American West sleeps on a raft, Caesars fill the hospital beds. In the title poem, the speaker waits in a parking lot while his companion finishes shopping: "What was the body but a vessel, and what was the store but another,/ larger vessel?" Often, things are inside of other things: a body inside a car trunk or a man beneath a spread parachute that covers an entire neighborhood. At the core is a boy's fear of the unknown: "My brother cried at dinner when he learned/ one day he would die. I picked at my food/ and wanted to be a chip on the wall/ or a spot that would not wash away." Recommended for contemporary poetry collections.
from
Ploughshares…
Kevin Prufer's terrific fourth collection exposes a nightmare straight

f

rom the head of Walt Whitman. In it, America sings a democratic song of distress, with no one, or thing, denied suffering or a voice: not the moon, nor minor politicians, shopping centers or the book's most prevalent speaker, an 'I' without biography, who transcribes societal and environmental break-down via tropes suggestive of the post-apocalyptic scenarios of Mad Max and television's "Jericho," of the conquer-n-collapse history of the Roman age.
—Dana Levin


from
The Antioch Review…
Clearly
, National Anthem
confirms, once again, that Prufer's voice is one of the most original and powerful of his generation.
—Jane Satterfield


from
The Georgia Review
These are political poems, but unlike many other contemporary poems, they are not limited by circumstance. Instead, they are visionary
. —Judith Kitchen


from
Colorado Review…
A beautiful poetry…like the best love songs, the poems in this book are absolutely fearless, and demand respect—fearless because they promise to be the voice of a people, demanding respect because they succeed.
—David Doran


from
Prairie Schooner…
If the dark prospect portrayed in
National Anthem
strikes us as grim and worrisome, then perhaps, like old Ebenezer Scrooge, we had best commit ourselves to altering these shadows of "things to come" before they unfold themselves to our peril. This, after all, is why we have poets—and why we need them.
—Stephen Behrendt


from
Oxford American…


[
From "Ten Great Novels of the Apocalypse [and one book of poems]": And here, for good measure, is one last book, which missed the above list only because it is not a novel:

National Anthem

by Kevin Prufer (apocalypse by enjambment): This is the one (good) post-apocalyptic poetry collection I know. There are no hands rising from the soil here, no horror-movie contrivances, but even the most naturalistic poems seem touched with a terrible wreckage, as if everything were occurring after the world had been torn to pieces. The opening lines of "We Wanted to Find America" are representative of the book's tone of frightening moss-lit elegy:

We wanted to find America through the gasps of snow that fell like last century's angels—
And the starving horses, their shanks brittled over with ice—
And the moon atop its brilliant derrick, and the poor burning so beautifully in the oilfields.
As we drove, their cries lit the wind with wailing
and you said, This isn't America into the truck's dark cab and turned the radio loud.

—Kevin Brockmeier


from
Contemporary Poetry Review…
I hope to be alive in the year 2038 (I don't ask for 2048) and I hope to be living an American life in which we still have our well-stocked supermarkets, and our rooms full of books, a life in which we are not divided into tribes desperately fighting to survive in the junkyards and ruins left by the collapse of empire, and I hope to then pick up National Anthem and smile at its quaintness, its fever-dream exaggerations of solvable problems ... be amused by its presumption that we today endure the ultimate in deracination and alienation. But I think, and fear, that National Anthem—delving as it does into the caverns below hipness—has a much better chance of ringing true to those serious readers whom I keep trying to believe in and who go by the name of posterity.
—Mark Halliday


from
American Book Review…
Prufer's complex and utterly beautiful
National Anthem
haunts and proclaims in subtle ways that recover the possibility of the American epic for a millennial and skeptical generation ... It is this care for clearly ringing music, more hymnal than conversational, and the patterns of complex and intricately resonent motifs, of snow, of ash, of the moon burning or falling like a bomb, of bare skulls and the light shafting through their excavation, which make the best argument that

National Anthem

is much more than an otherwise sly wink from a generation looking for America.
—Lynnell Edwards


from
Indiana Review…


National Anthem
is a collection of love poems to both the infinite and the infinitesimal. They are transformations at the most beautiful: an ever-expanding universe squeezed into a teacup, an entire cosmology fit into a mechanical bird's heart. —
Ryan Teitman


from
St. Ann's Review…
No empire lasts forever, and Prufer has achieved an elegy of sorts to his country at a moment when it needs to soberly assess the wreckage. For all the challenges that decline may pose,
National Anthem
reminds us how after a multitude of disasters, the past may yet sustain us for another moment, as we pause to take in its quiet and steady erosions, "so beautiful,/ I know you'd agree,/ and terrible."

—Gabriel Rocha



from
Post No Ills…
There are poets writing who know a poem is also place, a crowded room where one can be whomever he or she desires, who understand that to be able to write a poem is a form of freedom. The publication of
National Anthem
shows Kevin Prufer to be this kind of writer. In this collection, the voices are myriad and unexpected: gunfire, a shopping mall, young girls in heaven, history, and the American West all speak. And yet the collection's preoccupation is not with voices, but with the idea of nationhood—how it crumbles and how people love while it crumbles.
—Reginald Dwayne Betts


from
The Athens Banner-Herald…
Prufer's meditations on a post-apocalyptic America manage to be frightening, amusing and, above all else, extremely insightful.
—Janet Geddis


from
On the Seawall, A Literary Website by Ron Slate…
This is Prufer's most sophisticated book to date in thought and in scope, as other reviewers have amply noted. But what I love about
National Anthem
is not so much the big but the small -- how each arresting image layers on top of others for a complete effect. In a poem called "The Mean Boys," Prufer ends with: "The snow has painted the town away, and I miss the flash when they opened their mouths to laugh." Here, Prufer's images don't only sound interesting, but also serve a greater purpose of indicating a decaying and a fallen world. A distant town is described as "a row of crumbled teeth." Ruin and decay are adeptly made artistic by such original imagery throughout a book that travels skillfully and widely between the macro and the personal.
—Victoria Chang


from
The Laurel Review…


National Anthem
is an accomplished book that is deceptive in both its brevity and its quietude. Behind its seeming uncertainty are poems that scream across a continent and through thousands of years of imperial failure and ineptitude…its cries are haunting long after the book is closed.
—Michael McLane

Still More reviews....
Prufer grapples with American power and its deceptions with subtlety and sadness. —Editors Select,
The Notre Dame Review


"There is nothing so lonely as an empire detached from its people," writes Prufer in his poem "What We Did with the Empire." If anything, that line could well serve as the thesis statement for this collection of more than 40 poems by the English professor at the University of Central Missouri and editor of

Pleiades: A Journal of New Writing

. In two sections, the slim book collects poems that consider the failings and foibles of politics and government, urban life and consumerism -- belated wakeup calls for citizens of a police state that's constantly at war with other nations (and itself). The tenor and tone is largely one of careful but unavoidable and perhaps understandable neutrality and distance -- reminding me slightly of the prose of Ben Marcus and the comic books of Peter Milligan -- and Prufer's imagery is strong but subtle: birds and boats, coins and coffins, snow and soot. This is a poetry of decay and decline, and there's little hope in the book outside of the occasional lines like, "and the office towers bending down to us as if they'd cup us in their hands and warm us, / as if they'd lift us from the streets before we froze." ("We Wanted to Find America") Too little, too late, for now, and for that, I am thankful.
—Small Press Review


The poetry in
National Anthem,
simply put, is necessary. Gritty and vibrantly-realized, Kevin Prufer's work is a concretization of an imagined apocalypse—an analysis of the nation's affairs and poignant observations on life in contemporary America ... Prufer has the unique ability to tap into the current state of affairs and the vibe of the national consciousness. But he doesn't stop there. His work transforms the material into something necessary whose lasting benefit speaks to a country in a unique sort of turmoil.
—Cynthia Reeser, Prick of the Spindle


Also favorably reviewed in the
St. Louis Post-Dispatch, Kansas City Star, Milwaukee Journal-Sentinal, Miami Herald,
and elsewhere.
Poems in
National Anthem
received the George Bogin Memorial Award of the Poetry Society of America, the Pushcart Prize, and were the basis for a 2007 grant from the National Endowment for the Arts.

____



Praise for earlier books....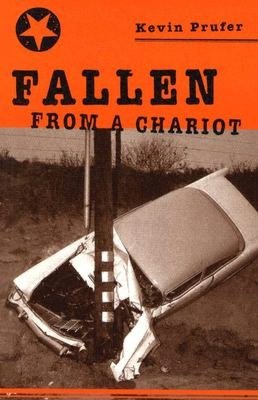 Fallen From a Chariot (2005)
Carnegie Mellon University Press



The Finger Bone (2002)


Reissued in 2013 in the Carnegie Mellon Classic Contemporary Series!


Carnegie Mellon University Press





Strange Wood

(1998)
Winthrop/LSU Press